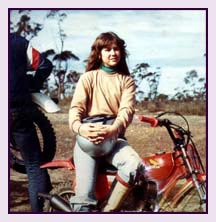 14 years old
14 years old and flat as a tack (thank goodness that changed!) I had moved to the Southern Highlands of NSW ('Babe' was filmed on the next property to ours) by this time, and was getting used to a stepfather, a new school, a new house and a new lifestyle.
We lived in a 100+ yr old sandstone house on a 25 acre farm - great for bikeriding, and practically anything we wanted to do. 14 was a pretty good year - my mother got remarried, the new school wasnt so bad, the house was great and life was a bit more settled.
Don't you just love the big boots?